On December 3, 2015, the Cross Strait Talents Cultivating and Developing 2015 Forum was held at University of Science and Technology of China (USTC) in Hefei. Chen Chusheng, Vice President of USTC, Gan Wanda, delegate of Taiwan Semiconductor Industry Association (TSIA), Yuan Chen, Associate Consultant of Hefei Municipal Bureau of Science and Technology attended the opening ceremony and gave their opening remarks. The forum was presided over by Prof. Lin Fujiang who is the member of the Recruitment Program of Global Experts and director of USTC Centre for Micro- and Nanoscale Research and Fabrication. Teachers and students from three Hefei local universities i.e. USTC, Hefei University of Science and University of Anhui, and entrepreneurs and technician staff from local IC industry companies attended the forum.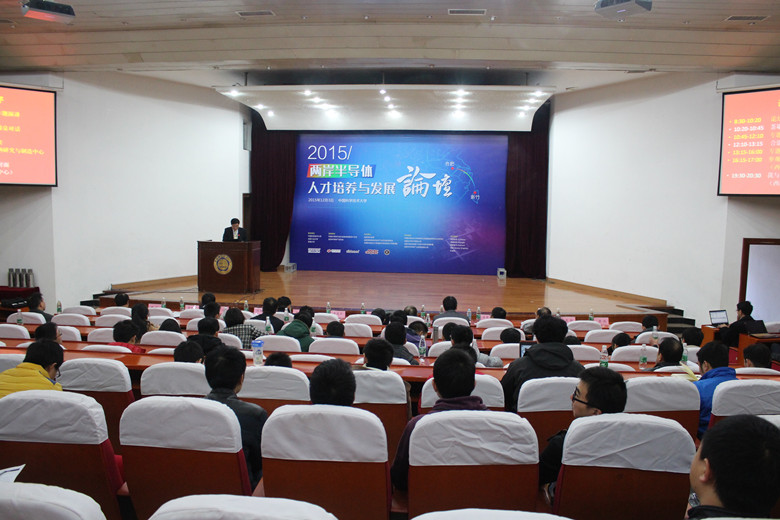 "IT technology has brought the biggest influence for people's life in the past decades. It's hard to image that we can use so convenient smartphones and PCs in 30 years before. Therefore, we should give thanks for engineers, teachers and scientists who worksin the semiconductor industry." said by Chen Chusheng. He also highlighted that USTC, Hefei University of Science, University of Anhui and other local universities should share the responsibility of cultivating talents for local IC companies as Hefei has listed IC industry as its pillar industry.
Gan Wanda shared TSIA's experience in cultivating talents with the attendees. "Talents is the cornerstone of high-technology industries" said by Gan. Gan also stated that TSIA always keeps attention on cultivating talents and has conducted many measures to achieve it including creating industry developing white paper in every 3to 4 years, making plan for the combination of "production, teaching and research", establishing talents cultivating fund, regularly hold forums or seminars and encouraging companies, teachers and students to attend etc. Gan also expressed "Hefei is an important IC industry base in China and has abundant IC talents the same with Taiwan." He hoped Hefei and Taiwan could cooperate closely to offer a platform for the talents in the both sides of the Strait to display their talent.
The forum is organized by Hefei Municipal Bureau of Science and Technology, Administrative Committee of Hefei Hi-tech Industry Development Zone and School of National Modeled Microelectronics of USTC (in the pipeline), and undertook by Hefei Core Storage Electronics Limited, Hefei Consortium of IC Technology Innovation and HFSID.
The forum took "Talents Cultivating and Developing of the Cross Strait under the New Trend" as the theme. Senior industry experts like Zhang Junyan, IEEE Fellow and ex-President of National Chiao Tung University, Pan Jiancheng, President of Phison Electronics Corp., Yan Jiang, Doctor of Institute of Microelectronics of Chinese Academic of Sciences and member of the Recruitment Program of Global Experts, Tao Hong, Vice Director of Hefei Consortium of IC Technology Innovation and President HFSID were invited to attend the forum and gave their keynote speeches. Their keynote speeches were focusing on topics like industry trend and talent demand etc. and tried to find effective ways to break through the talent bottleneck in IC industry in order to achieve the fast development of IC industry.
This year's forum not only promotes the exchanging and cooperation on talents cultivating of the Cross Strait, but also is an extension of the "2015 Cross-Strait IC Industry (Hefei) Summit" and shows the both sides of the Taiwan Strait is conducting the common senses made on 2015 Cross-Strait IC Industry (Hefei) Summit i.e. "establishing institutionalized and normalized exchanging platform, which is held on October 20th of 2015 at Hefei.