During October 20 to October 21, 2015, Summit Forum on Semiconductor Industry Across Strait (Hefei) 2015 was held in Hefei. Diao Shijing, Deputy Director of IT Department of Ministry of Industry and Information Technology of the PRC, Peng Qingen, Deputy Director of Economy Bureau of Taiwan Affairs Office of the State Council of the PRC and other leaders from the central department attended the opening ceremony. Zhang Qingjun, Deputy Secretary of Hefei Municipal Committee of the CPC and Mayor of Hefei delivered an opeing address.
The summit forum took the "cooperation on chips across the strait for mutual development" as the theme, and is the biggest forum across strait IC industry in recent years. The attending companies covered the whole IC industry chain, including investment, IC design, wafer manufacture, packing and testing. More than 500 representatives from IC industry of the both sides of the strait were featured in the summit forum to explore the new trend, driving force and cooperation way for the across strait IC industry.
Prof. Chen Junning, President of Hefei Consortium of IC Technology Innovation presided over the summit forum. Ding Wenwu, GM of National IC Industry Fund, Ye Tianchun, Director of Institute of Microelectronics of China Academy of Science, Lu Chaoqun, Chairman of Taiwan Semiconductor Industry Association, Chen Ruilong President of SINOCON Industrial Standards Foundation and other industrial experts and leaders gave their keynote speeches on the summit forum.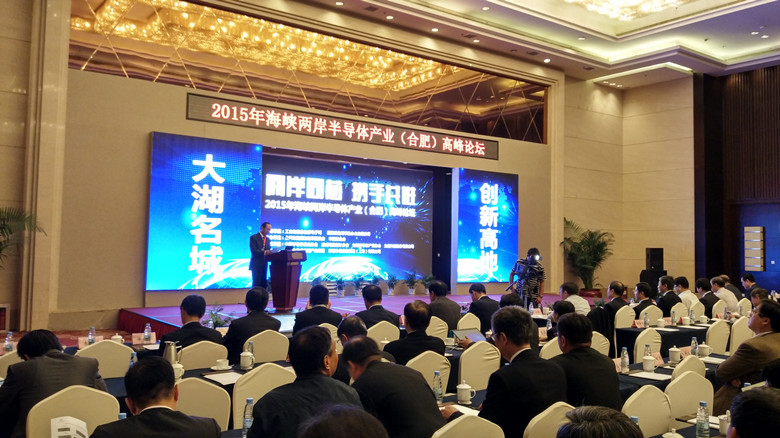 Tao Hong, President of HFSID delivered a keynote speech named "status quo of Hefei IC industry" to introduce the current status and supporting policies of Hefei IC industry to the representatives.